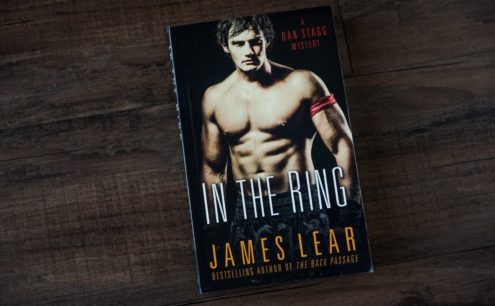 Another book that follows the character "Dan Stagg", "In the Ring" is the latest release from Cleis Press. Written by James Lear, the book is an erotic mystery focused on gay male sex scenes – and the undercover boxing ring it involves. With a full storyline and full sex scenes to match, "In the Ring" takes you back into the world of the constantly-horny Dan Stagg.
"In the Ring", by James Lear, is available in multiple formats. I reviewed the softcover print format which is 287 pages long and perfectly formatted. I don't think I noticed a single spelling or writing error. The book is also available in eBook formats including on Amazon Kindle and the Apple store.
The formal synopsis of the book reads:
"Dan Stagg is dead . . .

At least, as far as the rest of the world is concerned, he died in a bomb blast in Baghdad. In the Ring brings Dan Stagg to James Bond territory in an exciting story of concealed identities, beautiful double agents, corruption, power, and, of course, plenty of sex. With a new identity and some high-tech gadgets, the tough USMC officer goes deep undercover to penetrate an extreme right-wing terror group. On loan to the CIA and MI6, Dan travels to England to investigate a corrupt boxing promoter and his stable of vulnerable, sexually compliant, young athletes.

Posing as a martial arts instructor, Dan is drawn into a shadowy world of blackmail, prostitution, and pornography, where sex and money are in constant supply. Can Dan hold on to his true identity and complete the mission, or will he choose a new life working for the shadowy mastermind, Alan Vaughan? A series of erotic, romantic, and deadly encounters brings Dan face-to-face with the ugly political and criminal truth beneath the seductive surface of his new life?but is it too late to save himself?"
Have you read any of the other Dan Stagg books? If so, you'll have a bit more of the backstory on the main character, Dan Stagg. If not, well, it honestly doesn't really matter. The book makes it clear that there's a backstory you *could* delve into with past books if you wanted to, but it also pretty much gives you all of the information you need to know within this single book as well.
The synopsis of the book is pretty much spot-on. I wouldn't say that there's too much of an overarching plot or character dilemma within the storyline, but hey – you're here for an entertaining read and some hot sex, right? And that's exactly what "In the Ring" provides. The "deceased" Dan Stagg is a badass, very horny guy – that's pretty much his character in a nutshell. He sees sex in every guy he's introduced to – and in many of the circumstances, the sex actually comes true. In fact, the main character was selected for this particular mission because of his sexual proclivities! They need someone who's horny, ready to seduce, and able to sleep his way into the deeper parts of Alan Vaughan's criminal enterprise.
Luckily for us, the "criminal enterprise" happens to be filled with a bunch of gay and bicurious males who can "fall" for the charms of the main character. I'll be frank: not all of the sex seems entirely consensual all of the time. There's no explicit rape, but there are definitely some coercive circumstances within the plotline that fringe on that point of "He didn't want to do it at first, but he finally gave in and liked it" plotline that some erotic novels tend to fall into. It's not high on my list of sexual enjoyment, but if you're someone who enjoys the "straight male loved having sex with a guy" trope, those scenes might honestly be your favorite scenes of the entire book.
That being said, the erotic sex book does have a plot to it. It's not a plot with a ton of substance, but it's a plot that'll keep you engaged and wanting to read the book. Don't expect a whole lot of character growth or attachment to the main characters, but do expect to be drawn into a light-hearted "mystery" with lots of sex attached. It seems the main character is able to find sex at virtually every step of his mission – and every time he leaves his house. In fact, various plot points depend on him having sex with a particular character, so the book is honestly made up of just as much sex as it is plotline. This isn't one of those books that will entice you with six chapters of story then throw in a sex scene. Expect the scenes pretty much constantly.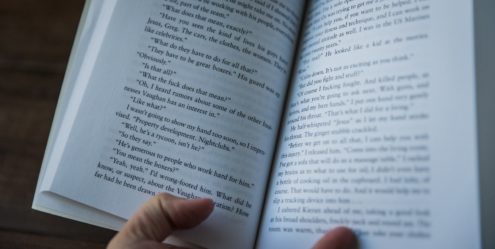 And with that in mind, how are the sex scenes? They're pretty good. They're very power dynamic focused. There's a very large focus on who is "receiving" and who is "in charge" during each individual scene. The scenes are pretty well-detailed, and they can get pretty damn graphic – which is probably what you want in your sex stories. Some of the sex scenes can get a bit on the kinky side, but most of the scenes are just focused on anal sex, oral sex, manual stimulation, public sex, and the power dynamic behind them. There are a couple group sex scenes that getting pretty intense too!
In case it's important to you, it's worth noting that this book as a happy ending. I won't say much about it, and I'd say the ending seems oddly unrealistic, but I know some people hate a dark ending at the end of their porn, so there you have it.
Overall, if you like sex scenes between guys and want a bit of a plotline to go with it, you'll likely enjoy "In the Ring". The scenes are written realistically and feature quite a bit of power dynamic exchange, and while the main character isn't the most likable person on the planet, he's a realistic character, and you'll find yourself absorbed in the story – just to see what happens when he comes out the other side. Thanks to Cleis Press for sending out this sexy gay novel for my "In the Ring: A Dan Stagg Mystery" review. It's available on Amazon as well as multiple other book providers.