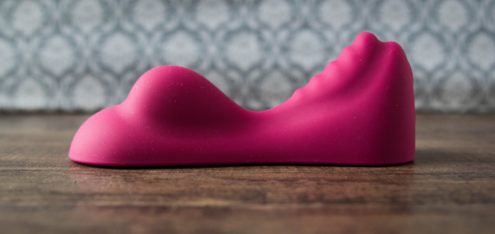 When I read the initial press releases about the Rocks-Off Ruby Glow, I knew it was something I needed in my life. The Ruby Glow vibrator is a collaborative toy between the erotica writer Tabitha Rayne and Rocks-Off. Tabitha said, "I wanted a vibrator I could use while writing saucy erotica on my computer and quickly realized that this shape was something that could be used by many women."
And that's what spoke to me. This is definitely something I want (and now definitely need!) in my life. I love the idea of a hands-free, slow-burn toy that requires virtually no use of the hands. It doesn't need to be orgasmic, but it needs to be something that can be easily "grinded" against for pleasure in short bursts while otherwise occupied. Perfect for erotica writing, being distracted at work, playing video games, teasing a partner, and a whole range of other things. It's amazing to me that the Rocks-Off Ruby Glow is really the first toy I've heard of that's designed to meet that need.
But I put off buying it after the toy was met with lukewarm reviews. People weren't impressed with the vibrational capabilities. I put off buying it – hoping another alternative would hit the market.
But unsurprisingly enough, the Rocks-Off Ruby Glow still remains as one of the few "sit and grind" toys available out there for vaginal bodied people. And I figured I didn't want to use the vibrations anyway, so the hell with it. Let's give it a try. So I bought one for myself.
Aaaaaanddddd I have to add another lukewarm-ish review to the pile. Not because of the vibrations. I mean, yeah, the vibrations aren't particularly strong, but I wasn't expecting super intense vibrations from a $40 toy. I wasn't really looking forward to the vibrations – as I was just happy to have something to grind against without vibrations.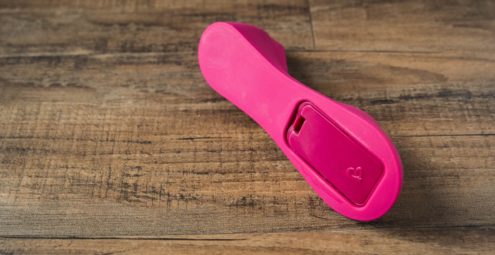 My complaint is because of the design itself. Maybe it's my plus-sized body, but the toy doesn't work for me when I'm upright as something to grind against. I was worried about it when I looked at the design online, but the clitoral nub is about an inch too short to reach the "right" spot when I'm upright. It "hits the spot" when I bend over or lean forward – but neither of those things are ideal for the use I wanted for it: having something pleasant to grind against while writing and using the computer.
My guess was that the toy was mostly beta-tested on slim women – which is totally fine! But when you add in the extra bulk of thicker thighs and a different clitoral placement, what was "spot on" for slimmer bodies may not work for thicker bodies anymore. And I think that's what happened with the Rocks-Off Ruby Glow vibrator. It's surprising that they didn't add more height. More height on the clitoral bump wouldn't probably have negatively affected those who it already fit on correctly, but it would have opened up the toy to a wider range of bodies.
So that's where I'm at. It sorta-works, and it's better than nothing. But it's not an ideal solution to what I was hoping for – and I genuinely hope that a company comes out with something similar – but taller – that works for different anatomies and bodytypes.
On the bright side, it isn't uncomfortable to sit on. I was worried, with my added bodyweight, that it might be uncomfortable or prod-y to sit on. It definitely isn't. If you sit on it for hours on end, it's slightly numbing, but it's actually surprisingly comfortable. I don't really realize it's there until I position myself into the good spot and then I'm like "Oh, that's great". The toy doesn't "squish" at all. It's very rigid and holds it shape perfectly.
With this experience, now I'm really, really craving something that does function properly. This seems like a weird gap in the sex toy industry, and I hope something comes by to fill it. Thanks for reading my Rocks-Off Ruby Glow review.
(Usual Rocks-Off Ruby Glow information: The toy is made from body-safe silicone and is extremely rigid. It holds its shape and doesn't squish under weight. It offers two motors which have ten vibration settings – none of which are particularly strong. They're definitely on the lighter, buzzier end of vibrations. The toy needs two AAA batteries for power.)